Cheerleading
Corona Situation
All INDOOR TRAININGS CANCELLED / KEIN HALLENTRAINING BIS AUF WEITERES (11.03.21)

Unfortunately,  due to the extended lockdown restrictions, all gyms continue to be closed, and there is no gymnastics, cheerleading and back exercises training possible until further notice.

*****

Leider müssen wir aufgrund der aktuellen Pandemie-Situation jegliches Hallentraining (Gerätturnen, Cheerleading und Wirbelsäulengymnastik) absagen. Die Sporthallen in Berlin sind bis auf Weiteres geschlossen.
Cheer & Dance Program
Girls Grade 2 - 12: Come and join the Cheer and Dance Team!
This new program is designed to teach the fundamentals of cheerleading and dance as well as teamwork, self- respect, and responsibility.
Cheer & Dance Info Flyer
Cheer_Dance_Team_Program_181005.pdf
Adobe Acrobat Document
220.4 KB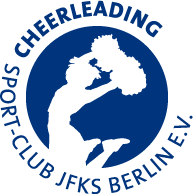 The SC JFKS has a popular Cheerleading program. The girls in their blue and white outfits and their choreographies are amazing! They like to show their stuff, and with their peppy cheers, fancy moves, engaging smiles and, most importantly, school and club SPIRIT they are in great demand.
Cheering adds so much to any event – amazing the crowd with death-defying lifts, throws and pyramids, and inviting the audience to cheer and clap to the "Kennedy Beat". It's tons of fun.