Cheerleading
General Assembly Meeting on Saturday, Dec. 9, 2017 from 10:00 to 11:00 a.m. in the JFKS Gym
Invitation and Agenda for Membership Meeting 2017
2017_Membership meeting_Invitation_9_12_
Adobe Acrobat Document
164.5 KB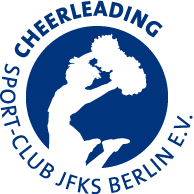 The SC JFKS has a popular Cheerleading program. The girls in their blue and white outfits and their choreographies are amazing! They like to show their stuff, and with their peppy cheers, fancy moves, engaging smiles and, most importantly, school and club SPIRIT they are in great demand.
Cheering adds so much to any event – amazing the crowd with death-defying lifts, throws and pyramids, and inviting the audience to cheer and clap to the "Kennedy Beat". It's tons of fun. Come learn pom positions like the High V, Low V, Broken T, Bow and Arrow, Daggers and Touchdown. Also learn some cool dance moves and group stunts like Elevator, Liberty and Basket Toss. 
Verstärkung gesucht!
Liebe Cheerleading-Interessierte,

wir sind die Cheerleader des SC JFKS Berlin e.V.! Wir trainieren zwei Mal wöchentlich mit viel Spaß und Eifer Cheers, Dance, Tumbling und Stunts für verschiedene Auftritte. Seit der Saison 2016/2017 starten wir auch leistungsmäßig durch und werden dieses Jahr unsere erste Meisterschaft - die Harzer Cheer Open - bestreiten, wo wir uns das erste Mal vor einer Jury beweisen werden.

Für das neue Schuljahr suchen wir noch Verstärkung! Wenn Du Lust hast, Teil unserer Cheerleading-Familie zu werden, dann komm zu einem Probetraining vorbei. Unser Coach Linda (linda-koschmieder@hotmail.de) gibt gerne weitere Auskunft und beantwortet Dir alle Fragen.

Unsere Trainingszeiten sind wie folgt:

Die Rubies (Peewees Jg. 2012-2006)
Freitags 16-18 Uhr
Samstags 13-15 Uhr

Die Gems (Junior AllGirl Jg. 2007-2001)
Mittwochs 18-19:30 Uhr
Samstags 15-17 Uhr

Du findest uns in den Sporthallen der John-F.-Kennedy-Schule in Berlin Zehlendorf.

Wir freuen uns auf Dich!

Coach Linda mit Teams
linda-koschmieder@hotmail.de

Sport-Club John-F.-Kennedy-Schule Berlin e.V.
Cheerleading Abteilung
Teltower Damm 87-93
14167 Berlin-Zehlendorf 
Aktuelle Infos und Preise zum Cheerleading des SC JFKS
Katalog_Cheerleading_SC_JFKS_e_V_171009.
Adobe Acrobat Document
12.0 MB
You'll find more information about the JFKS Cheerleading Division here: