Cheerleading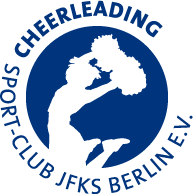 The SC JFKS has a popular Cheerleading program. The girls in their blue and white outfits and their choreographies are amazing! They like to show their stuff, and with their peppy cheers, fancy moves, engaging smiles and, most importantly, school and club SPIRIT they are in great demand.
Cheering adds so much to any event – amazing the crowd with death-defying lifts, throws and pyramids, and inviting the audience to cheer and clap to the "Kennedy Beat". It's tons of fun.
More information can be found in the sections Teams and Information and costs.