Cheerleading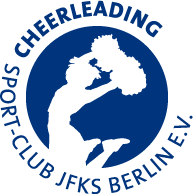 BREAK THROUGH THE NIGHT, WE ARE THE MOONLIGHT

Willkommen auf der Seite der Moonlight Cheerleaders.
Wir trainieren zwei Altersklassen (Juniors und Seniors) auf Wettkampfebene. Des weiteren gibt es ein Schulteam, das für Schulveranstaltungen Auftritte einübt.
Wir freuen uns auf euch!

Welcome to the Moonlight Cheerleaders.
We have a junior and a senior team that practices routines for competitions. Additionally, these teams practice for and perform at school events.
We're happy to welcome you into our team!