Swimming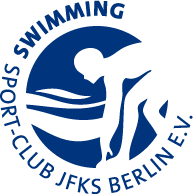 SC JFKS has a succesful and growing swimming program that offers children not only a possibility to learn how to swim but also to continue swimming on competitive basis and participate in swim meets all over Europe. The Early swimmers as well as the competitive Bearlin Bear-a-Cudas team practise in the Cole Sport Center in Hüttenweg in Zehlendorf, not far from the John-F.-Kennedy School. Adults are welcome to join the Club's own Aqua Fitness program.
Berlin Bear-a-Cudas
We are an English-German speaking swim club. We compete within the European Forces Swim League (EFSL, ca 20 teams of the US and NATO forces in Europe) which means we travel to swim meets throughout Europe. We also participate in the German meets in Berlin. Our head coach Peter Deutsch is the coach of the German Olympic Pentathlon Team. Currently we have 60 members on the main team. The pool where we practise has been recently renovated and is located at Hüttenweg 41-45, 14195 Berlin, ca 10 min by car from JFKS.
Read more at
Early Swimmers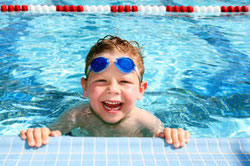 The Early swimmers is the perfect program for your beginner swimmer. We offer swim classes in English, starting from the age of 5. Your children will learn how to swim in the American style of training. Starting with the back-stroke and learning all four strokes (Butterfly, Backstroke, Breaststroke and Freestyle). Our coaches are able to speak both English and German.
Aqua Fitness
Aqua Fitness classes are offered to adults and seniors by our experienced coach Thea Melch. Classes take place weekly in the newly renovated pool at the Cole Sport Center in Hüttenweg.
Read more at:
Contact