Gymnastics
Corona Situation
Online Gymnastics Sessions in January 2021

As long as the normal Gymnastics Sessions can't take place due to pandemic reasons, gymnastics Coach Sophia offers online sessions - via ZOOM (live) or YouTube (recorded) - for the members of the Sports-Club of JFKS.
Her focus is on strength and stretching, but the sessions may also include handstand training and jazz dance elements.
Tuesday, January 12, 19, 26 at 17:00-18:00 (Workout + Stretching):
Login: https://zoom.us/j/91981694519
Wednesday, January 6, 13, 20 and 27 at 17:00-18:00 (Streching + Dance):
Login: https://zoom.us/j/98884696617
Saturday, January 9, 16, 23, 30 at 11:00-12:00 (Relaxed Stretching):
Login: https://zoom.us/j/92158068554
Have fun and stay fit!
GYMNASTICS TRAINING CANCELLED / ZUR ZEIT KEIN TURNTRAINING (Stand: 06.01.21)

Unfortunately, due to the new pandemic restrictions, all gyms have been closed, and there is no gymnastics, cheerleading and back exercises training possible at least until January 31, 2021.  All training activities will hopefully resume again soon.
*****

Leider müssen wir aufgrund der aktuellen Corona-Maßnahmen jegliches Turntraining (einschließlich Cheerleading und Wirbelsäulengymnastik) absagen. Die Sporthallen in Berlin sind bis bis mindestens 31. Januar 2021 geschlossen. Wir hoffen, dass wir alsbald wieder trainieren dürfen.
Training for returning members started on Sat, August 22, 2020
Due to the Corona situation, the following rules are in place:
    • Parents/spectators are not allowed in the building
    • The coaches pick up the kids at the front gate at the ramp and walk together to the gym
    • 1,5 m distance has to be maintained at all times
    • Equipment has to be disinfected in between use
    • You can still bring your own mat for warm up if you want to
    • Keeping an attendance sheet is required
Rules for using the gym starting on June 8, 2020
Handlungshinweise_zur_Schul_und_Sporthal
Adobe Acrobat Document
1.7 MB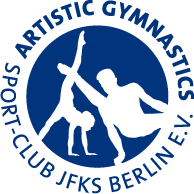 The SC JKFS has a popular Gymnastics program which offers children from complete beginners to advanced gymnasts the possibility to train two times a week directly on JFKS campus, using the modern and well equipped new gym.
Our classes are for boys and girls ranging from beginner to more advanced (up to US level 2). The children (7 years and older) are placed in small groups according to their age and skill level.
NEWS
Calendar is online!
You'll find more information about the JFKS Gymnastics Division here: