Gymnastics
Corona Situation
Outdoor Gymnastics Sessions March/April 2021

As of March 8th, some of the lockdown rules have been relaxed and we'll be able to start with outdoor training again. Sadly, this is only addressed to the 12-year olds and younger. Out of our 91 gymnastics members this option is available to 72 girls and boys who "qualify" for the outdoor training because they are 12 and younger.

Logistics to sort out the sports field and who gets to go when (as there are many other sports divisions who also want to use the field) has taken a few days. Gymnastics has now been granted the entire sports field on Saturdays from 13:00-15:00 h. We will start with four groups (two groups from 13-14, and two groups from 14-15) as early as tomorrow Saturday March 13 once per week at least until after Easter break!

We need to keep attendance and would like to ask you to sign up here :

What: Gymnastics training outdoors on Saturdays,  
Where: JFKS sports field, Teltower Damm 87-93, 14167 Berlin
When: Each Saturday starting March 13, either
 - 13:00-14:00 h (30 children/2 coaches, i.e. max. 15 kids per coach)  - OR -
-  14:00-15:00 h (30 children/2 coaches, i.e. max. 15 kids per coach)

https://doodle.com/poll/bdngq763y9aim9hi?utm_source=poll&utm_medium=link

All Saturdays in the weeks to come will have the same groups as the regulations do not allow for mixing of the groups.

This training will take place in rain or shine. Please dress the children appropriately and keep in mind that there is no shelter available should it start to drizzle or worse.

We have roughly prepared a schedule for the coaches until mid-April (including the Easter break), but new regulations might be put in effect as of March 22nd and things might change again.

For more information, please see the current rules and regulations as of March 8 from the Bezirksamt here below.
Information about Gymnastics outdoor + indoor and membership 12.03.2021
Information_email_200312_to_Gymnastic-me
Adobe Acrobat Document
222.1 KB
RULES by the Bezirksamt Steglitz-Zehlendorf for the 12-year-olds and under as of March 8:
•    training outside
•    FIXED training groups (for the next weeks)
•    Max. 20 kids per half field, in one big group or two smaller groups. No mixing of the groups.
•    one coach per group. (one group of 20 + 1 coach = 21 max or  two groups of 10 +1 coach each = 22 max)
•    Max 40 kids all together
•    The distancing of 1.5 m does not have to be observed.
•    No spectators or bystanders (parents) allowed;  formation of groups has to be avoided.
•    The use of showers and changing rooms is not allowed. Use the outside bathrooms (tower).
•    No sharing of equipment.
•    Participation list, with name, phone number and address (allows contact tracing in case of an outbreak of Covid19 )
Online Gymnastics Sessions April 2021 (subject to change / Änderungen vorbehalten)

As long as the normal Gymnastics Sessions can't take place due to pandemic reasons, gymnastics coach Sophia offers online sessions - via ZOOM (live) - for the members of the Sports-Club of JFKS.
Her focus is on strength and stretching, but the sessions may also include handstand training and jazz dance elements.
Tuesday, April 13, 20, 27 (and May 4) 17:00-18:00 (Workout and Acrobatic):
Login: https://zoom.us/j/94276796969
Wednesday, April 14, 21, 28 (and May 5) at 17:00-18:00 (Dance Technique and Choreo):
Login: https://zoom.us/j/95112314995
Friday, April 9, 16, 23, 30 at 17:00-18:00 (Hula Hoop and Jonglage):
Login: https://zoom.us/j/99603531580

Saturday: As long as outdoor Gymnastic sessions are offered (see above), there is unfortunately no online training. We hope for your understanding.

Have fun and stay fit!
All INDOOR TRAININGS CANCELLED / KEIN HALLENTRAINING BIS AUF WEITERES (11.03.21)

Unfortunately,  due to the extended lockdown restrictions, all gyms continue to be closed, and there is no gymnastics, cheerleading and back exercises training possible until further notice.

*****

Leider müssen wir aufgrund der aktuellen Pandemie-Situation jegliches Hallentraining (Gerätturnen, Cheerleading und Wirbelsäulengymnastik) absagen. Die Sporthallen in Berlin sind bis auf Weiteres geschlossen.
Training for returning members started on Sat, August 22, 2020
Due to the Corona situation, the following rules are in place:
    • Parents/spectators are not allowed in the building
    • The coaches pick up the kids at the front gate at the ramp and walk together to the gym
    • 1,5 m distance has to be maintained at all times
    • Equipment has to be disinfected in between use
    • You can still bring your own mat for warm up if you want to
    • Keeping an attendance sheet is required
Rules for using the gym starting on June 8, 2020
Handlungshinweise_zur_Schul_und_Sporthal
Adobe Acrobat Document
1.7 MB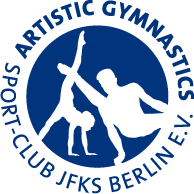 The SC JKFS has a popular Gymnastics program which offers children from complete beginners to advanced gymnasts the possibility to train two times a week directly on JFKS campus, using the modern and well equipped new gym.
Our classes are for boys and girls ranging from beginner to more advanced (up to US level 2). The children (7 years and older) are placed in small groups according to their age and skill level.
NEWS
Calendar is online!
You'll find more information about the JFKS Gymnastics Division here: