Gymnastics
Indoor & Outdoor Classes June 2020
Training and specific SIGN-UP plan:
TUESDAY Groups (INDOORS):
All Tuesday children are welcome!
June 16 (Tue): 16:00-17:50 h  (with Philip + Kyra + Mallory + Ana)
Advanced Boys ONLY:
Tuesday, June 16 + 23, 2020, 16:00 - 17:50 Uhr
Training indoors with coach Phillip
Sports hall, section A
https://doodle.com/poll/ugy7brhkmpd4pz88


WEDNESDAY Groups (INDOORS):
Hannah/Ante's beginner girls and Ana/Kyra's group ONLY:
June 17 (Wed): 16:00-17:50 h  (with Morin + Hannah)
 https://doodle.com/poll/5qxngaqcem678uat
Meeting/Pickup at the gate in gym clothes
Little boys (Linus) and Mallory's Wed group ONLY!:
June 24 (Wed): 16:00-17:50 (with Linus + Morin)
https://doodle.com/poll/accxzvd4xamhwr7b
Meeting/Pickup at the gate in gym clothes
SATURDAY OUTDOORS!
All children are welcome -  provided there's space! (First come first serve)
June 20 + 27 (Sats): from 9:30 -12:50 h (with Ante + Mallory)
https://doodle.com/poll/5u8znsmrn52v9b5i
3 consecutive groups/1 hour each
(10 gymnasts + 2 coaches per group)
Bring a mat or a towel!
Meet at the gate in gym clothes
LAST DAY OF TRAINING WILL BE JUNE, 23 (for Tuesday groups) AND JUNE, 24 (for Wednesday groups)!
*****
Below you find the rules that need to be followed! The Ordnungsamt has been checking on theses rules repeatedly already.

Please note that:
    • Parents/ spectators are not allowed in the building
    • The coaches pick up the kids at the front gate at the ramp and walk together to the gym
    • 1,5 m distance has to be maintained at all times
    • Equipment has to be disinfected in between use
    • You can still bring your own mat for warm up if you want to
    • Keeping an attendance sheet is required
Rules for using the gym starting on June 8, 2020
Handlungshinweise_zur_Schul_und_Sporthal
Adobe Acrobat Document
1.7 MB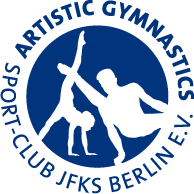 The SC JKFS has a popular Gymnastics program which offers children from complete beginners to advanced gymnasts the possibility to train two times a week directly on JFKS campus, using the modern and well equipped new gym.
Our classes are for boys and girls ranging from beginner to more advanced (up to US level 2). The children (7 years and older) are placed in small groups according to their age and skill level.
NEWS
New Calendar is online!
You'll find more information about the JFKS Gymnastics Division here: