Gymnastics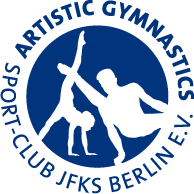 The SC JKFS has a popular Gymnastics program which offers children from complete beginners to advanced gymnasts the possibility to train two times a week directly on JFKS campus, using the modern and well equipped new gym.
Our classes are for boys and girls ranging from beginner to more advanced (up to US level 2). The children (7 years and older) are placed in small groups according to their age and skill level.
NEWS
New Calendar is online!
Gymnastics Fall Camp 2019 (October 14-17, 2019)
DATE: OCT 14-17, 2019 (Mon-Thu)
TIME: 9:30 a.m. to 12:30 p.m.

PLACE: New Gym of the JFK School, Teltower Damm 87-93, 14167 Berlin
AGE: 5 years and older (boys and girls, members or non-members of the SC JFKS)
COST: € 70(+ € 25 admission fee for first-time SC members)
           € 50 for Gymnastics members
including four days of training, fun and games AND a branded T-SHIRT.
REGISTRATION: http://bit.ly/2z8Pey2
REGISTRATION DEADLINE: September 30, 2019
 For further questions, please contact Sylvia Reitz.
You'll find more information about the JFKS Gymnastics Division here: