Gymnastics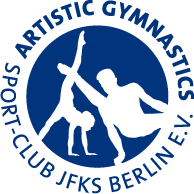 The SC JKFS has a popular Gymnastics program which offers children from complete beginners to advanced gymnasts the possibility to train two times a week directly on JFKS campus, using the modern and well equipped new gym.
Our classes are for boys and girls ranging from beginner to more advanced (up to US level 2). The children (7 years and older) are placed in small groups according to their age and skill level.
Fall Camp 2017 - register now!
The next Gymnastics Camp will take place during Fall break 2017:
DATE: Nov 1-3, 2017 (Wed-Fri)
TIME: 9:30 to 12:30 a.m.
PLACE: Sports Hall of the JFK School, Teltower Damm 87-93, 14167 Berlin
COST: € 36 (€ 30 for Gymnasitc members)
Our camps are a mix of fun games, some workouts and practice on the equipment. You don't have to be a member to participate, and boys and girls (including siblings, friends, and neighbors) aged 5 years and older are welcome. Camps are a great way to try out gymnastics!
If you want your child to participate, please enter your data in the sign-up sheet here: http://bit.ly/2z8Pey2
Registration deadline for the camp is October 25, 2017. The minimum number for the camp to take place is 12 participants. Please register early! Late registrations can only be accepted if openings are still available.
JFKS Elementary Students compete at the "Turnwettkämpfe der Berliner Schulen 2017"
Please click here to see results and pictures.
High School Gymnasts win Gold and Silver at "Jugend Trainiert für Olympia"
Please click here to see results and pictures.
Mat Cleaning Day (18.02.2017)
Thanks a lot to all helpers who cleaned the gymnastic mats so wonderfully! It makes such a difference!
You'll find more information about the JFKS Gymnastics Division here: