Tae Kwon Do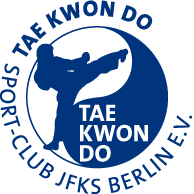 SC JFKS offers Tae Kwon Do - a sport characterized by its fast, high and spinning kicks developed specifically for training and attaining proficiency, at younger ages.
Not ony does Tae Kwon Do teach you how to protect yourself but more importantly it contributes to overall physical and mental fitness, encouraging dicipline, respect, politeness, and true pride.
Season 2017-2018
The Tae Kwon Do division practises twice a week in the gym of John-F.-Kennedy School. Once a year we try to organize a small beginners tournament. Twice a year we have belt tests. Our coach is Grandmaster Chung, Sun Chai 8. Dan, a Korean Master. He is a assisted by one or more rated instructors from his school. The division welcomes newcomers at any time and provides an 2x introductory trial lessons (cost: 10 EUR which are then returned to you if you fill out the registration form and become a member).
Practise times:

Wednesday (small gym)
first Group (Age 6-11) : 16:00-17:30
second Group (Age 11-99) : 17:30-19:00.
Saturday (big gym)
first Group (Age 6-11) : 11:00-12:30
second Group (Age 11-99): 12:30- 14:00.
Contact